In Gilroy, California

Because I am a rider, as well as a trainer, I know a significant amount of time is required to learn about, care for, train, and ride horses.

Whether you are a beginning or an advanced rider, horseback riding is a high risk adventure sport. Research shows that a minimum of 20 minutes training, three times a week, is required for you to become fit, to improve your skill and to benefit from your sport -- riding. The more you improve your skill, the more safe you will be and less at-risk for an accident.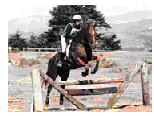 If this is how you wish to approach riding-- working at it several times a week-- my equestrian training program may work for you. Equestrian training is my private, owner-operated cross-training, riding club, and home business. It is not a boarding-stable facility. It is based on the premise that owning, keeping and riding horses is a life-style. Equestrian training offers three- or five-days-a-week training packages where you can:
have your horse trained
work on improving your riding and training skills
learn to solve problem horse behavior
discover if horse ownership is a lifestyle you want to pursue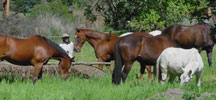 Equestrian Training has a 150ft.s x 150ft. sand/rubber arena constructed by arenabuilder.net, 58ft. sand round pen, 200 X 300 summer arena, permanent irrigated pasture for turnout, conditioning trail/track, a set of jumps, a novice cross country schooling course and trail obstacle course. We have a seasonal creek and pond on gently rolling terrain for conditioning. We have a small barn with box stalls and paddocks for a total of 12 to 15 horses There is cover in the pasture and adjoining covered paddocks for daily feeding and wet weather. My own horses all live happily out of the barn, except poor weather or feeding time, when they have custom meals.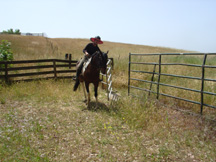 Here is a downloadable pdf file that mocks up the property and the types of schooling fences we have.)If you use Windows 98, remember you must place the cursor over the link name and right click to select SaveTargetAs.)
| | |
| --- | --- |
| Eight miles up the road is Henry Coe State Park. It is 81,000 thousand acres and we have only scratched the outer perimeter of the trails. You can't actually see me, I am behind the grey horse, we are crossing the creek. | |
| | |
| --- | --- |
| Seven miles away is Mt. Madonna County Park. It has several 7 -10 mile loop trails with nice footing and shade from the giant redwoods and some spectacular views. | |
| At further distances ( 30/ 60 minute drives) are Coyote Creek trail, Dinosaur Point, Calero County Park, Salinas River beach, Fort Ord Federal Reserve, or north to San Mateo County and Sam McDonald Park deep in the Redwoods. | |
| Near Dinosaur Point with the local hunt club and two clients at a hunter pace. | Where is Pickle? Jack Brooks! |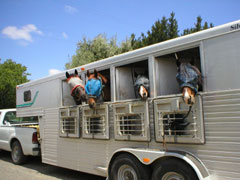 These are a few of our favorite places. We ride here every day, and trailer out once or more a week. I have a four- horse trailer and can accommodate two or three clients in my trailer.
amber@equestriantraining.com
[ Home ] [ Lessons & Training ]