Christine Amber, MA









Trainer / Clinician
ACRI, CHA III, AAHS
Gilroy, Ca
408 888 8703



Last edited August 17, 2014
Creative / Novel / Budget Ideas
Budget Jumps....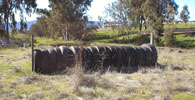 Day one -- The glueing was easy. The distributor in Salinas also gave me two promotional videos from Vettec about the products and how to use them. The quality was excellent; it was short and to the point. after watching the video, the glueing was easy. I used the small glue guns (20cc); I bought three. The first shoe had about 20cc, the second shoe had about 30cc.
After the glue set, I rasped the shoe and glue smooth, then I turned my horse out. All seemed fine. More than fine, he actually seemed more comfortable by the was he started running and jumping and goofing off.
Day two -- I rode in the flat, but on uneven ground. I put bell-boots on his feet, just incase my horse caught the heel of the shoe. He was very comfortable. I lost one of the shoes after about 15/30 minutes of walk, trot, and canter on grass and packed ground. I inspected the shoe, and it was clear I had not put enough glue on it. The other shoe stayed on fine. It was also clear, that the horse had been in the pond on my property in the night. I could tell because of the mud that was under the shoe, and the only place to get mud was in the pond. I think this is sign that with enough glue, these probably stay on pretty well. So, I need to get more glue.
day.....They didn't stay on very well. I think it is my technique. It is really a difficult thing to make the hoof dry, even with alcohol. I love the concept, but I almost got my own foot glued to the rubber barn mat!!!
Here's a blog link that might be helpful! I can afford a horse....
amber@equestriantraining.com
Use the "Back" button on your browser to return to the homepage
© Christine Amber, MA, EquestrainTraining.com 1998 - 2014
Site Description
Equestrian training.com is a small, personal and horse training business and riding club in Gilroy, Ca. (South San Francisco Bay Area, Silicon Valley) where owner/trainer Christine Amber trains horses and riders. Equestrian Training's focus is teaching adults and teems about, caring for, riding , keeping and owning horses as well as developing safe, strong, and sensible riding skills. You can take private riding lessons in English or Western Riding. You can join the riding club which emphasizes horses as a lifestyle that encompasses exercise, recreation, fun and a significant time commitment of three rides or group lesson a week. Equestrian Training's horse training focuses on foundations that develop safety, relationship, willingness, obedience and balance in an athletic horse.